The CCA hosts several different meetings every year, namely the CCA Annual Meeting, CCA Enrolled Actuaries Conference and Healthcare Meeting.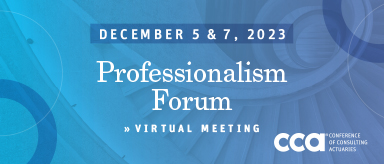 Virtual Professionalism Forum | December 5 & 7, 2023
Mark your calendars to the upcoming virtual Professionalism Forum on December 5 & 7, 2023, which will cover these topics: Daily professionalism, Technology and professionalism, Code of Conduct case studies, Generational knowledge transfer and ways professionalism has evolved.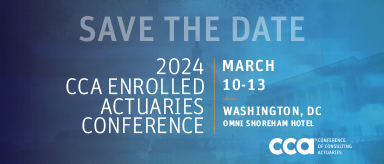 2024 CCA Enrolled Actuaries Conference | March 10-13
Mark your calendars for the 2024 CCA Enrolled Actuaries Conference will be held in person in Washington, DC at the Omni Shoreham on March 10-13.
2024 Virtual Healthcare Meeting | April 9 & 11
This two-day, eight-session meeting covers a wide range of topics. Experts in the healthcare field will address issues facing employers and consultants, outline opportunities for savings and improvements, and offer potential solutions that will allow actuaries to deliver better value.
Volunteer as a Speaker
CCA's educational events are made possible through members and volunteers who are willing to share their knowledge and perspective with others. Presentation opportunities available through conferences, seminars and webinars.
Volunteer Now