Actuaries Manage Risk. Consultants Create Trust. You do BOTH!
As a trusted source of information and guidance, you provide expert advice and professional counsel to your stakeholders - internal or external - making you a consultant regardless of whether it is in your job title. If you are answering questions, making recommendations and solving problems, the Conference of Consulting Actuaries is a community in which you belong!
The CCA is a network of actuaries with diverse backgrounds representing different practice areas who offer varying perspectives. We're a community of leaders, always ahead.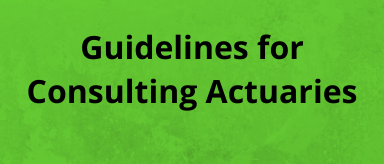 The CCA developed actuarial consulting guidelines and quick reference guides to help in your daily practice. Exclusive member access.