A Message From Your President, Ellen Kleinstuber
This month, Ellen Kleinstuber gives an overview of CCA continuing education opportunities, highlights the upcoming Enrolled Actuaries Conference, invites you to submit nominations for the annual awards and more. Learn more by watching her video message.
Have an idea, comment or question?
April 2022
Membership News
Education Spotlight
CCA Community Digest
Philanthropic Opportunities
Finding Inspiration - Lessons from Leadership Gurus
This month, find out what inspires Ellen to stay focused on doing the right things instead of getting sidetracked by a busyness mindset that can derail success.
Celebrating Women in Actuarial Leadership Panel Discussion, Part 1
In case you missed it, watch Part 1 of the Women in Actuarial Leadership panel discussion. For the first time in history, the presidents of the five U.S. actuarial associations are women. In this segment, each describes how various role models guided and inspired their professional journeys. They describe their mentors as leaders within the profession, family members, volunteers and coworkers. They've been influenced by business advice and philosophy, advocates for the profession, leadership characteristics they've admired, lessons they've learned from working with difficult people and more.
Submit Your CCA Award Nominations - Deadline: June 1
When it comes to accolades, what's more deeply satisfying than being recognized by your peers? The honor carries a certain authenticity when your professional community comes together independently to say: 'We see that you have contributed in a meaningful way and it is appreciated.' Nominate your fellow CCA members for one of three CCA Awards
Member Spotlight: Josh Shapiro
Meet your fellow CCA member and speaker, Josh Shapiro. He's passionate, humble tenacious and dedicated to his work. He's a fan of Pink Floyd and has a few other favorites you can read about in his profile.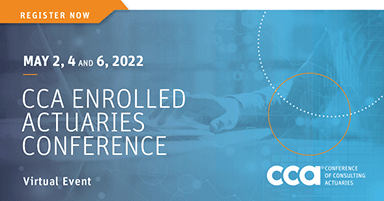 2022 CCA Enrolled Actuaries Conference - Registration Open!
The 2022 CCA Enrolled Actuaries Conference will be held virtually on May 2 ,4, and 6. The meeting will offer 39 sessions covering developments in single-employer, multiemployer, public, and small plans as well as other topics relevant to pension professionals.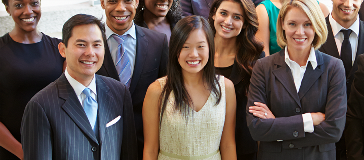 2022 CCA Healthcare Meeting Concludes | Save the Date for 2023 - April 11 & 13
The 2022 Healthcare Meeting concluded last week - thank you attendees for choosing CCA for your professional development. Thank you speakers for sharing your expertise and insights. And, thank you program committee for putting together an outstanding, two-day meeting. The 2023 meeting will be virtual - save the date!
What's Happening Within Communities?
Are you a member of the CCA Communities? CCA Communities are active forums for getting answers, sharing your concerns and taking actions to help shape the profession. Here is what has been happening in our communities.
Reminder - Complete the Survey!
The CCA is looking for feedback on your experience with the communities forum. Please take a couple of minutes to fill out the following survey and help us make the communities serve our membership to the fullest potential. There are multiple versions of the survey, please visit your communities to complete the appropriate one.
Community Discussion
Communities discuss topics and receive information that is relevant to the CCA membership. This month, discussions included:
Removal of pension benefit cap (Corporate Qualified Pensions and Small Actuarial Firms)
Participant loans from defined benefit plans (Corporate Qualified Pensions)
ASOP 4 Disclosure (Public Plans)
Information on a podcast on ASOP 4 (Multiple Communities)
Notes from the Intersector meeting with PBGC (Multiple Communities)
Call for volunteers for projects (Leadership Development)
How to ask for breaks during long meetings (Women in Consulting)
Visit your communities to stay up to date and join the conversation. To join communities, visit your member profile.
Philanthropic Opportunities
Formula 2022 Virtual Gala
The Actuarial Foundation Presents: Formula 2022 Virtual Gala, where math, education & diversity intersect. Register to attend a night of celebration that will showcase special guests and exciting entertainment including keynote speaker Margot Lee Shetterly, author of Hidden Figures, the #1 New York Times bestselling book behind 2016's Oscar-nominated hit film. Register.
Gift Donation Matching Program
The CCA is proud to support the efforts of the International Association of Black Actuaries (IABA), the Organization for Latino Actuaries (OLA), and the Actuarial Foundation with a donation program. CCA will match donations made by CCA members to the Actuarial Foundation up to $10,000. When donating please indicate you are a CCA member!

The Actuarial Foundation
The Foundation provides free virtual math resources and tutoring, administers middle and high school academic competitions and funds scholarships.

International Association of Black Actuaries
The International Association of Black Actuaries (IABA) is a volunteer-based organization dedicated to increasing the number of successful Black actuaries through programs that address the underrepresentation of Blacks in the profession.

Organization of Latino Actuaries
The Organization of Latino Actuaries (OLA) provides exam support, scholarships, job search support, and an interactive network and pipeline of talented Latino students and actuaries.