CCA President Maria Sarli reflects on the recent Healthcare Meeting and the CCA Enrolled Actuaries Conference, announces upcoming events and reminds you about benefits of being a CCA member. Hear more by watching the video.
Have an idea, comment or question?
May 2021
Membership News
Education Spotlight
CCA Community Digest
Philanthropic Opportunities
Coming Soon! New CCA Website
CCA is excited to announce that we will be launching a new website this June! The new site reflects CCA's new logo and design, and its ongoing commitment to members. Key features include:
Integrated social media buttons for LinkedIn, Twitter, Facebook, YouTube and Instagram
Searchable membership directory
Robust search functionality and improved navigation
Personalized member profile features
News section
And More!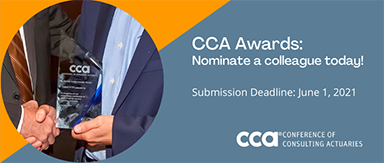 Submit Your CCA Award Nominations
DEADLINE: JUNE 1 When it comes to accolades, what's more deeply satisfying than being recognized by your peers? The honor carries a certain authenticity when your professional community comes together independently to say: 'We see that you have contributed in a meaningful way and it is appreciated.' Nominate your fellow CCA members for one of three CCA Awards.
AAPI Panel Recording Now Available
Did you miss the recent CCA Panel Discussion featuring prominent members of the AAPI community? Moderated by CeFaan Kim of WABC-TV New York, these actuaries compared and contrasted their cultural backgrounds with that of other actuaries and discussed how they have dealt with these cultural differences in the workplace. This event is part of CCA's continued commitment to Diversity, Equity and Inclusion initiatives.
Save the Date: CCA Professionalism Meeting
August 3 & 4, 2021 | Earn Up to 6 Hours of CPD Credit Mark your calendars to join us on August 3 & 4, 2021 for the virtual CCA Professionalism Meeting. Featuring three sessions, plus complimentary registration to the webinar Professionalism in a Virtual World, attendees will be eligible for a total of six hours of CPD credit. Watch your e-mail for more information.
Save the Date and Reconnect! CCA Annual Meeting
October 24-27, 2021 | Scottsdale, Arizona The 2021 program offers a blend of world-class education and networking that is mindful of the safety and health challenges we continue to face due to the pandemic. The meeting will be held at the spacious Westin Kierland Resort and Spa in Scottdale Arizona and feature diverse sessions to match your needs and interests. Choose from Retirement, Health & Welfare, Public Plans, International, Multiemployer, Investment and Cross Discipline topics. We have all missed being together -- seeing old friends and familiar faces, and making new connections. At the 2021 Annual Meeting, we'll help provide a safe opportunity to help you reconnect. Watch for registration details coming in June.
Upcoming Webinar - Register Today!
Payer-Provider Collaboration: The Road Behind, The Road Ahead Wednesday, June 9, 2021 | 11:30 a.m. - 12:45 p.m. CT Collaboration between payers and providers has come a long way over the past five to ten years. There is still a lot of ground to cover in aligning incentives to make the healthcare system more efficient for patients. Presenters discuss some of the pain points from both the provider and payer perspectives, along with some ideas on how both parties can take action to provide better patient care.
What's Happening Within CCA's Communities?
Have you taken advantage of all that the CCA Communities have to offer? Communities are the place to share knowledge and get answers, as well as connect with your colleagues. Here is what has happened lately with the CCA Communities.
Upcoming Community Call – Follow up from EAC Session
Wednesday, June 2 | 12:00 p.m. Central
Join us on Wednesday, June 2 at 12:00 p.m. Central for a Community Call as a follow up from the Enrolled Actuaries Conference (EAC) session Longevity 2021: What to Assume for the Future in the Wake of COVID-19? Even if you didn't attend the EAC session, please join us. All registrants will receive background information on the topic before the call.
Healthcare Community
The Healthcare Community discussed billing issues, mental health costs, and advice for new actuaries. The next Healthcare Community will be held June 8 at 1:00 p.m. Central and will be a discussion on the direction of healthcare under the Biden Administration with Tanya Sun, Tracy Watts, and Jeff Lemieux. For information on how to join the call please email CCA Staff.
Women in Consulting Community
The Women in Consulting Community held discussions on book recommendations and speaking up. They also continued their discussion from their April lunch on conflict resolution.
Emerging Leaders Community
The Emerging Leaders Community interviewed Gloria Asare, a leader of the International Association of Black Actuaries (IABA). Recordings of the interview can be on CCA's Community Learning page.
Community Forums at Enrolled Actuaries Conference
The Public Plans and Multiemployer Communities held virtual forums at the CCA Enrolled Actuaries Conference on May 3. Both forums were well-attended and provided the opportunity for participants to discuss not only the meeting, but other topics of interest to the groups.
Philanthropic Opportunities
CCAs Gift Donation Matching Program
The CCA is proud to support the efforts of the International Association of Black Actuaries (IABA), the Organization for Latino Actuaries (OLA), and the Actuarial Foundation with a matching donation program. CCA will match donations made by CCA members to IABA and OLA up to $25,000 per organization. In addition, CCA will match donations made by CCA members to the Actuarial Foundation up to $10,000. When donating please indicate you are a CCA member!

The Actuarial Foundation
The Foundation provides free virtual math resources and tutoring, administers middle and high school academic competitions and funds scholarships.

International Association of Black Actuaries
The International Association of Black Actuaries (IABA) is a volunteer-based organization dedicated to increasing the number of successful Black actuaries through programs that address the underrepresentation of Blacks in the profession.

Organization of Latino Actuaries
The Organization of Latino Actuaries (OLA) provides exam support, scholarships, job search support, and an interactive network and pipeline of talented Latino students and actuaries. When making a donation check the CCA member box to ensure your donation is matched by CCA.