A Message From Derek Guyton, President
This month, hear from Derek about the election results, the upcoming Annual Meeting corporate sponsors, an upcoming community event, Hispanic Heritage Month, and more. Watch his video.
September 2023
Membership News

Education Spotlight



CCA Community Digest
Other Actuarial Association Opportunities
CCA President's Blog | The Value of the IAA to the CCA
In this month's blog, Derek highlights the CCA's relationship with the International Actuarial Association (IAA), a partnership that aligns with our mission and vision, and our goal to advance the body of knowledge for the profession. Our involvement in the IAA gives us – and thus you – direct insights into the international issues affecting the various jurisdictions across the globe, expanding upon our perspective from that of a US-based practitioner.
Congratulations to the Newly Elected and Re-elected Board of Directors
Thank you to those who participated in CCA's 2023-24 Board of Directors' election. Our process allows all members to vote in this important election. The ballot closed on September 11th with a slate of six members selected to serve on the Board of Directors for a three-year term. The following members will be serving their first three-year terms on the Board of Directors:

Rob Bacher
Kenneth J. Herbold
The following members will be serving their second three-year terms on the Board of Directors:
Cheryl Ham
Melissa C. Kolle
Yi-Ling Lin
Paul M. Sepe
Board terms for these individuals begin at the conclusion of the 2023 Annual Meeting.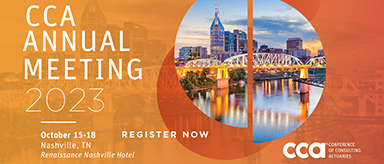 There's Still Time to Register
This year's Annual Meeting offers you up to 18.5 continuing education credits over four days of breakout sessions, keynote presentations and networking events. The meeting kicks off Sunday, October 15 with an early evening session followed by the opening keynote presentation Monday morning. The conference concludes on Wednesday, October 18 with a motivating and inspirational general session.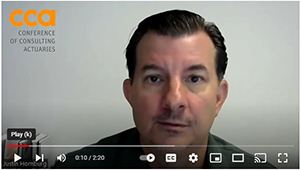 Listen as Justin Hornburg previews the cross discipline sessions planned for Annual Meeting.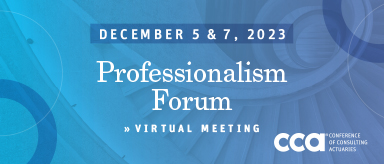 Earn up to 8 hours of CPD Professionalism Credit
Register now for the upcoming virtual Professionalism Forum on December 5 & 7, 2023, which will cover these topics: Daily professionalism, Technology and professionalism, Code of Conduct case studies, Generational knowledge transfer.
Holistic Wellness for Women's Life Stages
In this Innovative Healthcare Solutions Podcast episode Ed Pudlowski talks with Amita Sharma, co-founder of NourishDoc, about how they support women through perimenopause and beyond for physical wellness and emotional support.
Community Digest
CCA Communities are active forums for getting answers, sharing your concerns and taking actions to help shape the profession. Visit your communities to stay up to date and join the conversation. To join communities, visit your member profile.
Community Discussion

Communities discuss issues and share information that is relevant to the CCA membership. This month, discussion topics included:
Medicare Part D Attestations for 2024-2025 and Impact of Inflation Reduction Act
Lack of Waiver of PFB Causing Large MRC
Unfreezing Compensation
Secure 2.0 Catch up Guidance
Upcoming Community Event
Join us for this upcoming event. The following event is open to members and non-members. Feel free to invite a colleague so that they can see what the CCA is all about.
Leadership Development Community Podcast Club

Friday, September 29 | 12:00 p.m. CT
The Leadership Development Community will be hosting their next Podcast Club discussion on September 29 at Noon CT. This month we will be discussing the Ted Talk How to speak so that people want to listen.

Other Actuarial Association Opportunities
The CCA is proud to support the efforts of organizations that invest in the professional development of actuaries, and strive to bring more people into and diversify the actuarial profession. Support provided by the CCA includes financial and/or in-kind contributions to the following organizations:
Hispanic Heritage Month
Each year, Americans observe National Hispanic Heritage Month from September 15 to October 15, by celebrating the histories, cultures and contributions of American citizens whose ancestors came from Spain, Mexico, the Caribbean and Central and South America.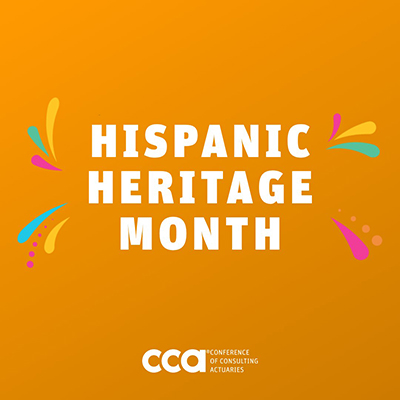 Abacus Actuaries
A network of aspiring, practicing, and former actuaries, working together through mentorship programs, networking and other professional development opportunities to break the bamboo ceiling so Asians can achieve equal representation in the highest ranks of the actuarial profession.

International Association of Black Actuaries
The International Association of Black Actuaries (IABA) is a volunteer-based organization dedicated to increasing the number of successful Black actuaries through programs that address the underrepresentation of Blacks in the profession.

Network of Actuarial Women and Allies
An organization committed to connecting and empowering women of all backgrounds, races, ethnicities, and life circumstances to be successful in the actuarial profession.

Organization of Latino Actuaries
The Organization of Latino Actuaries (OLA) provides exam support, scholarships, job search support, and an interactive network and pipeline of talented Latino students and actuaries.
Sexuality and Gender Alliance of Actuaries
SAGAA's purpose is to facilitate connections between LGBTQ+ actuaries and allies to engage in community-wide dialogue about LGBTQ+ issues. This group aims to create a safe space for dialogue, community, and career encouragement, while also educating the broader actuarial profession.

The Actuarial Foundation
The Foundation provides free virtual math resources and tutoring, administers middle and high school academic competitions and funds scholarships.
Gift Donation Matching Program
The CCA is proud to support the efforts of the International Association of Black Actuaries (IABA), the Organization of Latino Actuaries (OLA), and the Actuarial Foundation with a donation program.