A Message From Your President, Ellen Kleinstuber
This month, CCA president, Ellen Kleinstuber tells you about an upcoming cross discipline webinar, describes the member benefit Actuview, invites you to the Annual Meeting in October and more. Learn more by watching her video message.
Have an idea, comment or question?
June 2022
Membership News
Education Spotlight
CCA Community Digest
Philanthropic Opportunities
President's Blog: Leadership Lessons from a New Grandma
Read Ellen's June blog, "Leadership Lessons from a New Grandma". Last week she became a grandma, which reminded her of a childhood poem, "Children Learn What They Live." Read more as she relates lines from the poem to leadership.
In Memoriam
Since the publishing of the last member newsletter, the CCA has learned of the passing of Mujtaba H. Datoo and Bob May. We extend our deepest sympathies to the families, friends and colleagues of our peers.
Member Spotlight: Rebecca O'Loughlin
Meet your fellow CCA member Rebecca O'Loughlin. She loves to network and meet new people and if you've had a chance to volunteer with her the past couple of years on the Leadership Development Steering Committee, the Annual Meeting Program Committee or the Strategic Planning Committee, you already know that her smile is contagious, and she's determined to succeed. She might consider herself to be stubborn, but we think of her as tenacious and relentlessly focused on results.
CCA Podcast Channel Debut!
The CCA, as part of its commitment to delivering you timely and relevant continuing education and professional development opportunities, has launched a new podcast channel featuring leadership and healthcare topics. It can be found on Spotify, Apple Podcasts and Google Podcasts.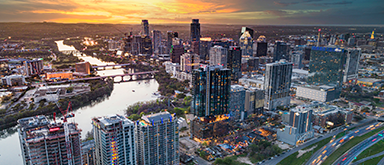 2022 Annual Meeting Registration Opens the Week of June 27!
Attend this year's Annual Meeting and earn up to 18.5 continuing education credits over four days of breakout sessions, keynote presentations and networking events. The meeting kicks off Sunday, October 16 with an early evening session followed by the opening keynote presentation Monday morning. The conference concludes on Wednesday, October 19 with a motivating and inspirational general session.
Closing the Cancer Care Knowledge Gap
In episode 6, Ed Pudlowski talks with Mark Stadler, Access Hope CEO. Learn from Mark how the City of Hope collaborates with institutions, employers and patients nationwide to improve the quality of cancer care and close the cancer knowledge gap.
Community Digest
CCA Communities are active forums for getting answers, sharing your concerns and taking actions to help shape the profession. Visit your communities to stay up to date and join the conversation. To join communities, visit your member profile.
Community Discussion
Here is what has been happening in your communities.
The launch of the Defined Contributions Community and its proposed topics
Savings provided by niche vendors in the specialty Rx management space
Commissions Rate range for running a Healthcare Consortium
Costs of prescription drugs through warehouse clubs
Changes to the Form 5500 that will be effective with 2022 plan years
Application of the 415 Salary Limit in multiemployer plans
In addition, the Public Plans Community held a call featuring Andy Blough and Seth Stock where they discussed their CCA/NIRS innovative funding strategies contest winning paper "The Cost of Stability: A Case Study." And, the Leadership Development Community held their first TED Talk/Podcast Club.
Update Your Communities and Email Preferences
Now is a great time to update your communities to make sure you are connecting and growing your network. This will also ensure that your are staying up-to-date on the latest community events such as calls, panel discussions and roundtable lunches. To update your communities, visit your Member Profile.
Did you know that you can also manage the number of emails you receive from the communities. To update your preferences and select a consolidated daily or weekly digest, visit your My Subscriptions page.

Upcoming Leadership Series Interview
Friday, July 8 | 10 am CT
Mallika Bender, FCAS, MAAA, Diversity, Equity & Inclusion (DE&I) Staff Actuary at the Casualty Actuarial Society. Mallika helps build awareness of and educate stakeholders on DE&I topics, develop strategies and mobilize volunteers and partners to increase the diversity and maintain and strengthen relationships with key DE&I partners.

Public Plans Community Call
Friday, July 22 | 1:00 PM CT
Join the Public Plans Community call discussing one of the winning papers from the recent CCA / NIRS innovative funding strategies contest. Bill Winningham, Michelle Boyles, Aaron Shapiro and David Kent will present their paper "Risk-Based Funding Policy," followed by an open discussion. Participants will have the opportunity to ask the authors questions as well as discuss their thoughts about this submission.

This paper's funding policy uses a standard normal cost, plus layered amortization approach. However, the amortizations are based on a funding policy liability, which equals the accrued liability adjusted by a risk load factor greater than or equal to one. It also proposes a Contribution Surplus Account to stabilize costs over time. Read the paper.
Three winning submissions in the CCA/NIRS Innovative Public Pension Funding Strategies Award Competition were recognized earlier this year. Each will be the topic of a Public Plans Community call. The first call was held in June and featured Andy Blough and Seth Stock presenting their paper "The Cost of Stability: A Case Study."
The third paper, "Reserve Fund Stabilized Contribution Policy—A Model Public Pension Funding Policy" by David Draine will be presented on a call later this summer.
Philanthropic Opportunities
Gift Donation Matching Program
The CCA is proud to support the efforts of the International Association of Black Actuaries (IABA), the Organization for Latino Actuaries (OLA), and the Actuarial Foundation with a donation program. CCA will match donations made by CCA members to the Actuarial Foundation up to $10,000. When donating please indicate you are a CCA member!

The Actuarial Foundation
The Foundation provides free virtual math resources and tutoring, administers middle and high school academic competitions and funds scholarships.

International Association of Black Actuaries
The International Association of Black Actuaries (IABA) is a volunteer-based organization dedicated to increasing the number of successful Black actuaries through programs that address the underrepresentation of Blacks in the profession.

Organization of Latino Actuaries
The Organization of Latino Actuaries (OLA) provides exam support, scholarships, job search support, and an interactive network and pipeline of talented Latino students and actuaries.