Dr. Ivan Joseph
Diversity and Inclusion in a High-Performance Culture
Dr. Ivan Joseph inspires people and teams to achieve more than they dreamed. Ivan is proof that when we help others succeed, we succeed too. His TEDx Talk has over 19 million views, which speaks to the impact he has on people. Forbes named it one of The Ten Best TED Talks About The Meaning of Life.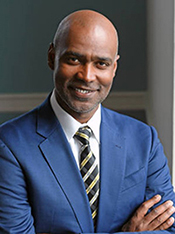 As a professor and soccer coach at Graceland University, Ivan developed the soccer program from the ground up. In just five years, he led both the men's and women's teams to #1 national rankings, and helped the men's team win their first ever national championship. As a result, Ivan Joseph was recognized by The National Association of Intercollegiate Athletics as National Coach of the Year in 2006.

As Director of Athletics at Ryerson University in Toronto, Ivan led the athletic program to national prominence: The Ryerson Rams won provincial and national championships for the first time in the institution's history - while achieving GPAs higher than the student body average. Ivan spearheaded the landmark $100 million renovation of the historic and beloved Maple Leaf Gardens. In this new culture of belonging and pride across Ryerson's diverse urban campus, student-athletes broke records with their athletic, academic and outreach activities.
Ivan Joseph currently is the Vice-Provost, Student Affairs at Dalhousie University, a 200-year old major research institution in Halifax, Canada. He leads the university's effort to promote interconnectedness and belonging among a diverse student body drawn from across the country and around the globe.
Ivan Joseph is regularly called on to support national team programs. In 2018 he was selected as Head Coach of the women's national soccer team in his native Guyana. While serving as high-performance coach for the Canadian men's basketball team, they won the country's first ever FIBA Under-19 Basketball World Cup in 2017.
Diversity and Inclusion in a High-Performance Culture
A culture of inclusivity is a culture of high performance. Likely you're prioritizing diversity and inclusion. And, you've had setbacks—and need some fresh ideas and inspiration!
Dr. Ivan Joseph shares practical and proven strategies to build an inclusive culture. An authority on retention of under-represented populations in predominantly white organizations, Dr. Joseph also speaks movingly from his own experience. He has overcome challenges, broken barriers, and led a transformation toward inclusivity in every organization he's worked for.
Born in Guyana, Ivan moved to Canada at age five. Ivan knows what it's like to look different and sound different, to be a Black student on a white campus, to be a leader from an under-represented group. He has experienced the challenges and opportunities of being a designated hire. And he understands from the inside the complexities of creating an inclusive organizational culture.
In this perspective-shifting talk, Ivan shares insights and experiences from his own remarkable story. You will gain:
Powerful strategies—including the Identity Development Model—to drive high performance through inclusivity and diversity.
Tactics for successfully navigating the nuances of organizational decisions related to diversity and inclusion.
Techniques to foster successful cross-cultural communication.
You will be ready and eager to create a culture where inclusion and high performance go hand in hand.