CCA is where we gather to connect and share diverse perspectives, emerging insights and critical knowledge. We inspire each other, empower leaders and focus outward to create client value, inspire creativity, and put our knowledge to work to move you and our profession forward.
CCA offers several opportunities for knowledge exchanges and idea sharing through interviews with your peers and leaders in the profession, panel discussions and conversations on emerging topics. Ultimately, positioning you to deliver the best value to your clients and employer.
Check out these leadership interviews, panel discussions and the Innovative Healthcare Solutions podcast.
Innovative Healthcare Solutions Podcast
During this podcast series, CCA past president, Ed Pudlowski, interviews actuaries and other professionals focused on delivering innovation in healthcare. These sessions and discussions highlight interesting people, products and services designed to drive a better healthcare system and provide insights into what is transpiring in the ever-changing environment of healthcare.
Leadership Interview Series
The Leadership Interview Series (formerly Emerging Leaders), hosted by CCA past president, Michael Clark, provides actuaries with leadership skill development through thoughtful and engaging interviews. These discussions feature actuarial leaders sharing personal experiences and practical advice that have shaped them into the people they are today. Tune into these interviews live or recorded to gain new insights that will help you as you look to develop or refine your leadership skills and become a more successful professional.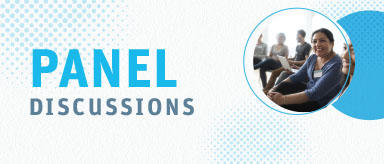 Panel Discussions
CCA's online communities are active online forums for sharing information and ideas. Occasionally, discussions move from the online forum to virtual events. If you missed being part of the conversation as it was happening, it's not too late to catch it here!