Member Spotlight: Rebecca O'Loughlin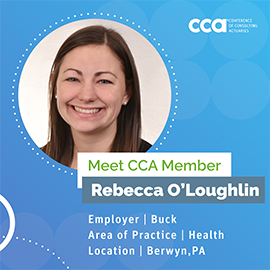 Meet CCA Member: Rebecca O'Loughlin
Meet your fellow CCA member Rebecca O'Loughlin. She loves to network and meet new people and if you've had a chance to volunteer with her the past couple of years on the Leadership Development Steering Committee, the Annual Meeting Program Committee or the Strategic Planning Committee, you already know that her smile is contagious, and she's determined to succeed. She might consider herself to be stubborn, but we think of her as tenacious and relentlessly focused on results. Get to know a little bit more about Rebecca by reading her member spotlight.
Name: Becca O'Loughlin | Location: Berwyn, PA | Employer: Buck | Area of Practice: Health
My mom was a guidance counselor when I was growing up, so she had me start the college search early. Math was always my favorite subject but I didn't think I'd have the patience to be a teacher. So, when at 14 I learned what an actuary was, I decided that would be my major! We started looking at schools that had an actuarial science program, and I settled on Lebanon Valley College in Annville, PA.
My favorite part of being a member of the CCA is the networking & getting to meet new people. I've only been involved with the CCA for a couple of years, but already I've gotten to work with so many great people through the Leadership Development Steering Committee, the CCA's mentorship program, and of course the annual meetings.
A year or two into my career, I was lucky enough to work closely with someone who'd been in the industry for over 40 years, and in addition to all of the concrete knowledge she taught me, she shared invaluable life lessons that I still carry with me. Once when I was having trouble juggling a couple different projects I was working on and had rushed through something she reviewed, she asked me "If you can't find the time to do it right the first time, how do you think you'll find the time to fix it?" That has stuck with me, and since then I've made an effort to be more thorough and thoughtful on everything I work on, because even if it takes a little longer initially, it'll save me (and others) time in the long run. She also had a love of learning that was contagious, and encouraged me to never stop trying to better myself, both personally and professionally. Since then, I have tried to adopt her mindset, and I look forward to sharing what she taught me with others throughout my career.
Most actuaries probably have the same answer, but getting my FSA was definitely my greatest accomplishment to date. After my first semester in college I wasn't sure if I was cut out to be an actuary, but luckily my stubbornness paid off and I stuck it out. When I graduated and started my career, I worked really hard to prove I deserved the chance my company gave me and passed exams as quickly as I could. When I finally got my FSA in 2019, I was so excited to share it with everyone who'd been supporting me over the years that I bought five guest tickets for the reception so I could celebrate with my parents, my now fiancé, my sister, and my future brother-in-law – and it was totally worth spending most of the bonus I got for getting my FSA on that trip!!
I went to Lebanon Valley College and majored in actuarial science & minored in Spanish.
To me, success means having done something that you can be proud of, and I think being truly successful means being happy in all aspects of your life. That doesn't mean you have to juggle everything perfectly – sometimes one part will take up more time/energy than others, and that's okay. But, it does mean not putting too much into your work at the expense of loved ones, or spreading yourself too thin that you're not doing your best work. Finding that balance is hard, and I know it will only get harder as I take on more responsibilities at work and at home, but I think I will feel successful if I can be proud of what I've done in both places.
Get as much experience as you can – there are so many different fields within actuarial science, so even if you know you want to be an actuary at a young age you'll still benefit from learning about the different practice areas to figure out which one you'd enjoy the most. I was lucky enough to have two internships, one in pension consulting and one in P&C insurance, and it really helped me figure out which field I was best suited for and where I wanted to start my career.
Being a consulting actuary means I get to be creative in finding solutions that fit my clients' needs instead of doing the same thing every day. I've gotten to work on so many different types of projects and clients, my days are never boring (to me at least)!
I've learned that I can't do everything myself, and I need to rely on others. It sometimes seems faster and easier to just do something yourself instead of teaching someone else how to do it and then making sure they did it correctly, but then the next time something similar needs to be done, you're in the same position instead of having someone else who would've had experience – so by asking for help, you're really giving someone else an opportunity to learn/grow, and making things easier for yourself in the long run.
I love baseball (and especially the NY Mets), so my dream job would be to analyze statistics for the Mets – and thinking about it, it's not all that different from what I do now!
Right now, all of my free time is spent planning my wedding, so you'll have to ask me this again in a couple months when I actually have free time again! But one of my favorite things to do is see a baseball game, and my goal is to visit all 30 MLB stadiums. After next month, I will be almost halfway there!
I'm pretty open, so I don't think there's a lot about me that no one knows. My go-to fun facts for ice-breaker questions are that the only pet I've ever had is a ferret, and I once got two speeding tickets in one day (in two different states). Since then I have learned to slow down!