The consulting actuary doesn't sit on the sidelines. We're front and center – the movers and shakers – unafraid of using our powers of intellect and charm to advise and conquer. We're also individuals with countless extraordinary stories to tell. This page will feature the stories of CCA members - who they are and what they do both inside and out of the actuarial world.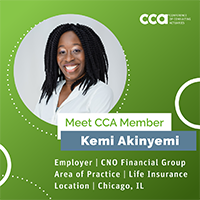 Meet CCA Member: Kemi Akinyemi
Meet your fellow CCA member, Olukemi (Kemi) Akinyemi. She was hooked on actuarial science after just one actuarial science club meeting at her alma mater, University of Nebraska-Lincoln.
She enjoys networking with amazing pension actuaries at the CCA meetings. She's grateful to the mentors who have helped her get to where she is today and hasn't forgotten from where she came. She's a wife, a mother, a daughter, a sister, an actuarial professional, a neighbor, a friend, an MBA student, a speaker, a teacher and more! She's an absolute joy to be around.
Name: Kemi Akinyemi | Location: Chicago, IL | Employer: CNO Financial Group | Area of Practice: Life Insurance
I got into the actuarial profession through my college - University of Nebraska-Lincoln (Go Huskers!). I intended to be an engineer, but lost all interest because of the few non-energetic engineers and teachers I went to meet with - I'm not saying all engineers are boring...I know quite a few fun ones! Just the ones I happened to speak with while deciding.
I was my roommate's free math tutor at the time, and she came across a flyer for our actuarial science club that had all sorts of Greek letters on it. She picked it up and brought it to our dorm room and said she thought the description of an actuary fit me perfectly. That flyer had said something like do you love math, do you like trying new things, do you like exams, etc.? Then join us at the actuarial science club meeting and get free pizza and drinks. It was a small group of students and one professor (Professor Ramsay). Everyone was enthusiastic, and I was in from that moment on. This was around spring of 2001.
Part of my actuarial journey took me through the pension world. I am no longer an practicing pension actuary, but I worked really hard on the EA credential and I am not willing to part with it. I enjoy being a CCA member because I get to network with amazing pension actuaries and keep my ears in tune with the latest buzz in the pension world. My best part of the CCA/EA meetings is the networking portion.
If I was not an actuary, then I'd be speaking all over the world and encouraging anyone I can. I'm about as transparent as people come, so this is probably not a surprise.
I really like C.S. Lewis books and the movies that have come out of some of them, but I can't seem to find time to read these days.
I've been blessed with so many mentors throughout my career. I would like to call out Leslie Jones for pouring so much into me as I transitioned from being a pension actuary to being a life actuary. She believed in me and would not let me doubt my capabilities, and she did so in a very gentle and kind way. She never stopped speaking about the potentials she sees. Many times, it took me multiple calls to catch up to the image. She spent hours mentoring and coaching me, and remains my mentor to date. I love and appreciate her so much. You asked for only one, but I'd just like to share that I have had several awesome mentors over the past 20 years that have been pivotal to me getting to where I am right now.
"Greatest accomplishment" is a difficult ask, but I feel so blessed in that I have no regrets in so many areas of my life. I am a wife to an amazing husband, a mother to some lovely children, a daughter, a sister, an actuarial professional, a neighbor to several, a friend to many, an MBA student, a speaker, a teacher, and the list goes on. I put on different hats depending on the day of the week or the time of the day, but I love that I can do whatever I do with joy in my heart and a smile on my face. I truly have no regrets, and I love the team that I work with to make several things I do happen.
I truly appreciate that I can still have a pension family even though I am not a practicing pension actuary. The spring CCA virtual meetings have been an informative and great way to stay connected.
University of Nebraska-Lincoln, where I studied Actuarial Science and Mathematics. Quick story - when I told my uncle that I was going to study Actuarial Science, he said he had not heard of it, and was convinced I was making a terrible mistake. My "out" was to convince him that I would do a Math double major and if Actuarial Science does not work out as he predicts, then I will get a masters in an engineering field. He has not brought up the topic since I graduated.
Success is enjoying where you are as you live through life and proceed to the next phase.
Being an actuary is great, but look deep within and you will see there is so much more to you than being an actuary. Develop in as many areas as you can and remain well-rounded.
Identify role-models and mentors early and learn what you can as you go along.
There will be hurdles and some disappointments along the way. Don't let them define you. See them as stepping stones to a brighter future and learn what you can.
Treat people kindly, and be willing to help when you can.
There is plenty of room for everyone to shine. There is no need to block anyone's progress to get ahead.
More collaboration with non-actuaries. Perhaps that's why I'm getting an MBA.
I currently work within a life insurance company, but I see myself as a consulting actuary within the organization. Consulting actuaries educate their clients and help them be the best version of themselves within preset constraints. They help clients evaluate situations, propose potential solutions to their clients and help them understand the rationale and consequence of each idea. Consulting actuaries also serve as extra resources for clients who may have knowledge or capacity or human capital constraints.
Haha! I haven't used one in years. I have Excel, and I need to learn SAS by the way.
Your solutions are typically a relationship away. Learn to network and ask the right questions. Also be available to be someone else's solutions.
I'd be a Teacher or a Speaker, simply because I love working with people - young and old and everything in between.
I watch Veggietales and Cocomelon and go to the parks with my younger children, and if I end up with extra free time, I take a long nap.
The joyful girl and her loud laughter.
Once upon a time, when I was a child, there were occasions when my family was not sure where the next meal would come from...but here we are.
[Have a question for Kemi? Send the CCA an email at conference@ccactuaries.org containing your contact information, and we'll get the message to her on your behalf.]