Consulting actuaries don't sit on the sidelines. We're front and center – the movers and shakers – unafraid of using our powers of intellect and charm to advise and conquer. We are individuals with extraordinary stories to tell. This page will feature the stories of CCA members - who they are and what they do both inside and out of the actuarial world.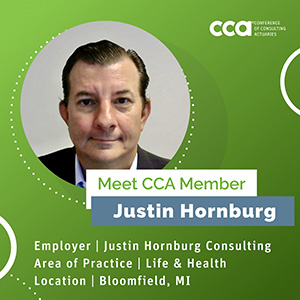 Meet CCA Member: Justin Hornburg
Meet your fellow CCA member, Justin Hornburg! Justin is a dedicated CCA volunteer. His favorite parts of being a CCA member are the interactions with other members and the friends he's made through his volunteer work. Justin runs his own consulting business, is a cat lover and an avid reader. He has a curiosity that drives him to try new things, be a life-long learner and a tenacious problem-solver. Take a minute to get to know Justin.
Name: Justin Hornburg | Location: Bloomfield, MI | Employer: Justin Hornburg Consulting | Area of Practice: Life & Health
I just happened upon the actuarial profession table at a career fair when I was in college. The funny thing is that the fair was put on by the business school, which had an actuarial studies program, but I was a math major in the liberal arts school.
The interactions with other members at meetings and in calls. And the friends I've made from my volunteer work.
My favorite book is The Fountainhead, by Ayn Rand. Lately, I've been reading the Agent Pendergast novels by Preston & Child.
Meeting and marrying my wife, Julie.
My favorite experiences working with the CCA have been the role-plays/skits/scenarios in Professionalism sessions. I enjoy acting out behaviors that I would never consider doing in real life.
New York University, Mathematics
I think success is when you've achieved the goals you've set out for yourself. Another aspect of it is being comfortable in your own skin.
Be curious. If you see something that looks odd or don't understand, try to figure it out. Always be learning and trying new things.
Yes. I must have an HP-12C because I cannot use a regular calculator anymore.
Reading, and playing golf.
I'm a cat lover. We have three cats.
It means being associated with a great group of actuaries and having lots of opportunities for learning and growth.
[Have a question for Justin? Send the CCA an email at conference@ccactuaries.org containing your contact information, and we'll get the message to them on your behalf.]