CCA Member Spotlight: Jeremy Olszewski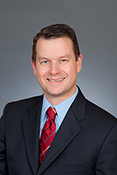 Jeremy Olszewski, a CCA member and volunteer approaches his work with curiosity and efficiency. He is collaborative, goal-oriented, dedicated and tenacious in all he does – striving to always give his best. Take a moment to get to know Jeremy, a member of the CCA Annual Meeting Program Committee.
Name: Jeremy Olszewski | Location: Boston, Massachusetts | Employer: Fidelity Investments| Area of Practice: Retirement
I first heard about the actuarial profession in high school when my algebra teacher said something to the fact that he knew he would become a math teacher or an actuary and that stayed with me. I knew I wanted to study math and business in college and once there I researched a little what an actuary was. I liked that the profession combined my interest in math with my interest in business and seemed like a fit. After mentioning the profession to a few people that knew some actuaries, I was able to talk with a few and decided that it was for me.
Wish I had a great answer to this one like they thought I worked in a mortuary or something but in my experience people either know what an actuary is, have never heard of it or get it confused with an accountant or underwriter. Pretty boring responses which is not so strange when discussing the actuary profession.

This one is basic but given I get a lot of my CE credits through CCA sponsored events, I love the CE reporting tool on the CCA website. When it comes time to renew my EA I normally have enough credits on the CCA site to cover the requirement which makes documentation a lot easier.

My second favorite part is the CCA communities. To me that has always been an extension of the annual meeting where insight from other actuaries can be shared for the benefit of all actuarial clients.
Right now, my favorite columnist is Alexandra Petri of the Washington Post. If you are not familiar with her, she writes satire and is very funny.
I have been on the CCA Annual Meeting program committee for the past 5 years and have really enjoyed working with other committee members to put the program together. It has been a tremendous way to expand my professional network, especially since I have worked at only one firm my entire career. This may seem a little sappy but working on the committee has brought my appreciation of the actuarial profession to another level. It is truly amazing how professionals from competing firms work together to educate each other on the most pressing issues for the benefit of all our clients. I am not sure how much that is done in other professions but makes me proud of the actuarial profession.

I studied at Worcester Polytechnic Institute (WPI) in Worcester, MA. I majored in Actuarial Mathematics with a minor in Management.
Believing you can reach a goal or an answer and not giving up until you do.
For those taking exams, the advice I give is the same as the advice I was given. That is, either decide you are going to pass the exams and put your full effort into it or don't bother. If you are wishy washy about getting through them, you are wasting your time. Whenever you sit for an exam, take it to pass and not to see how it goes.

I encourage actuaries just getting started to pose a lot of questions, come up with potential answers and look for confirmation. Better to come with a question and a possible answer and look for confirmation then to just come with a question and look for an answer. Make sure to challenge what you are learning or being told (in a nice way) to better understand it.
I think my vision is a very common one. As computing power and data gathering continue to increase exponentially, I see the future of the profession to be a place where more time is spent on analyzing and interpreting the results and less time on generating the results. There are many opportunities outside of our traditional area of work that could use a qualified statement of actuarial opinion but there is a question if those opportunities will be ceased by actuaries or others in the world of data science.
Either way I think the future is bright for the profession. However, where many actuaries rely on actuarial tables compiled by other actuaries, it will probably benefit all actuaries to know a little bit more about the techniques of gathering and interpreting large sets of data to drive expectations of the future.
To me a consulting actuary is someone who helps clients come up with solutions to their problems and continually strives to earn and retain the status of a trusted advisor.
Absolutely, who doesn't? Through high school and college, I played around with a few Texas Instrument versions until I graduated to the HP-12C and the world of reverse polish notation. Having worn my first HP-12C out, I now spread the workload across two physical HPs and the HP-12C app on my phone. If you haven't try the phone app, I highly recommend it. Then you have you HP-12C wherever you go.

Hard to consider not being an actuary at this point but early on I probably would have gravitated to being an investment consultant or potentially a portfolio analysis. I know, still in the financial world. Now, if I was looking for something different, I might be inclined to find something in the solar or geothermal heat pump industries as I am a big fan and proponent of their technologies and benefits.

With two young boys I don't have a lot of free time these days but when I do I love to hike. The White Mountains in New Hampshire are not too far from me so have taken plenty of hikes there. My favorite hike in the Whites is across the Presidential Range. I have climbed Mt. Kilimanjaro. I take my boys hiking and can't wait until they are a little older to do some bigger overnight challenges.