CCA Member Spotlight: Emojoy Brown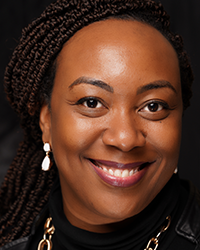 Joy Brown approaches her work practically and tenaciously, always seeking to learn something new. She is curious by nature, self-aware and ambitious. She's an excellent role model and has diverse interests. Take a moment to get to know Emojoy Brown, a CCA member and volunteer on the Women in Consulting Community Steering Committee.
Name: Emojoy Brown / Location: Atlanta, Georgia / Employer: United Parcel Group / Title: Director, Investment Operations & Compliance / Area of Practice: Retirement
I met an actuary while wandering around a job fair in college, trying to find employers who might be interested in hiring a math major. She encouraged me to research the profession and apply for internships. After a great internship at Blue Cross Blue Shield of Illinois, I took an exam and decided to launch my career as an actuary.
My colleagues at UPS initially joked that I was an angel of death- that I could somehow predict when individuals were going to die.

I love that in every CCA event there is a healthy dose of practical advice on being an effective consultant as well as a technically strong actuary.
My favorite podcast is Hidden Brain- a show hosted by Shankar Vedantam. The topics are fascinating explorations of why we think, communicate and behave in certain ways so we can challenge ourselves to think differently.
I have really enjoyed engaging with the Women in Consulting Community. I don't have a single professional mentor, but it's great to be connected with a community of women who share resources, advice, perspectives and their own experiences.
I went to Northwestern University in Evanston, Illinois. I earned a BA in math, while I also really enjoyed a broad range of humanities and culture courses. More recently, I went to Georgia Tech to study global business with the goal of better understanding some of the projects and trends other leaders were tackling. I earned my MBA last December.
Success is the feeling of having applied your unique skills and talents to solve a problem and implement meaningful change.
Keep a broad perspective as you make your way through the exams so you can apply the skills you learn across different practice areas and business functions.
I see predictive analytics and decision science as focused applications of the actuarial skillset. Given our diligence in assumption setting and performing experience studies, we have the skills to "ask the data" the right questions and home in on trends that can guide individuals and companies as they try to shape future outcomes.
Being a Consulting Actuary means that I must listen to understand the perspectives and requirements of various stakeholders to come up with a potential solution set for my client.
Over the last several years I have challenged myself to use my voice, call out injustice and advocate for those on the wrong end of it. I was not always comfortable doing this and for too long I accepted "that's just how it is." However, as my children get older, I've been asking myself, "How am I going to explain this injustice to my children? What will I tell them I did to try to make this right?" Asking myself these questions reminds me what's at stake if I don't do my part.
I would want to be a talk show host. I love listening to people's stories about their experiences in their own words.
I'm a mother of two boys, ages 7 and 9. What's free time?
Six Minutes Late for Life. This has been a running joke with teams I've led over the years. Usually, it's in reference to feeling over-scheduled, or generally needing to slow down to reflect and assess before moving on to the next thing.