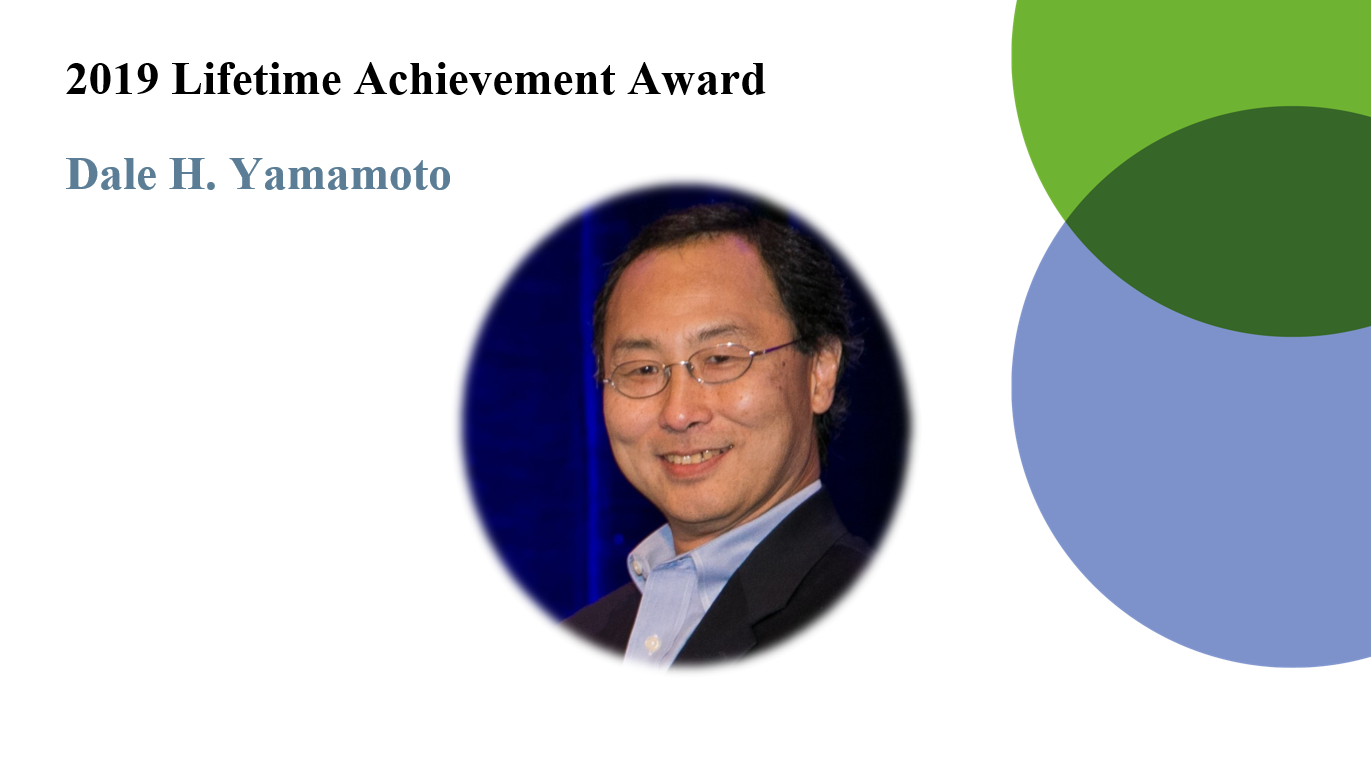 Dale Yamamoto was honored with the 2019 CCA Lifetime Achievement Award. He served on the Board of Directors from 2005-2014 as well as serving as President in 2012. Additionally, Dale has served on the Annual Meeting Program Committee, Budget and Finance Committee, Continuing Education Innovation Taskforce, and many more.

He has also been instrumental in the development of the CCA Healthcare Meeting and has served as a speaker at numerous CCA meetings.
For those who don't know you, could you tell us all about yourself and how you got into the actuarial profession?
I grew up in Spokane, WA and one of our writing projects in high school was to describe what kind of work you wanted to do. My teacher gave me information about the actuarial profession, I read it and told her that has got to be the most boring job that I've ever heard of. Roll forward two years, sitting in a dorm talking to a guy who was transferring to the University of Nebraska. I asked him why he would transfer to yet another school in the middle of farm country (we were at Washington State University). He said they have a great actuarial science school there.
If you had not pursued a career as a health consultant and actuary, what else might you have done?
I considered going into the Navy out of school. When I told them that I wanted to fly jets or be a SEAL, I failed the physical because my eyesight wasn't good enough. Then, considered engineering, political science, law but with no real focus. I think, like most of in the profession, we're glad we found it—whether by accident, fate, or whatever got us there.
Is there a story behind why your firm is called 'Red Quill Consulting?' (It's very powerful imagery!)
Pretty easy if when you were selecting the name, you had fly fishing on your mind. I didn't want my name in the company name and after a day of fishing, I was reading, what else, a book about fly fishing. The author was talking about fishing with his friend, AK Best, and using one of his flies---a red quill dry fly. So, I had a name and have a framed set of red quill flies tied by AK Best in my office.
If you could choose, what would you like for your legacy to be?
Probably that I helped in some small way to better the profession and make it known to a broad range of people.
What does a Lifetime Achievement Award mean to you?
Certainly an honor to be recognized by your peers.
In your opinion, what is the most important contribution (or contributions) you've made to the actuarial consulting profession?
Personally, it was enhancing the education material for health actuaries during the 1980s in the SOA education system. Prior to that, the material didn't include current practice and was very basic compared to other actuarial disciplines.
Do you have anything specific you'd like to accomplish next?
If possible, maybe improve the health insurance system in the country. Just not sure how to that right now.
Why do you feel that volunteering is important?
I think volunteering for anything is an important part of personal growth. But someone shouldn't volunteer for something that they are not passionate about because it will become a chore.
What does it mean to you to be a member of the CCA?
The CCA is the only organization whose primary focus is on the consulting actuary and it makes it the organization that I depend on for keeping me up-to-date on what's going on in the consulting world.
Do you have any words of wisdom for future generations of consulting actuaries?
Make sure you keep an open mind to continuous learning from different sources including the views of other professions and make time for personal relaxation. I've surprised a few when on business trips, I mentioned I went fly fishing close by (I have found fun places close to cities most wouldn't think of fishing like Hartford, Atlanta and Phoenix).
Is there anyone specifically that you'd like to acknowledge as having been instrumental in your success?
Doesn't it almost always, in the end, be your parents or whoever raised you? My dad was hard-working but also always found time to do what he enjoyed. He taught Judo well into his 80s and just enjoyed drowning a few worms at local lakes. My mom volunteered at many a church event and judo tournaments (although she told me much later that she volunteered with the concessions at the tournaments because she got nervous watching me compete).
What do you believe is the most pressing issue facing the actuarial community today; and, if you happen to have an approach to a solution, what would it be?
The most pressing issue for health actuaries is the "competition" from other professions. MBAs, mathematicians, statisticians, underwriters and clinicians will claim some piece of the pie that health actuaries work in and senior management may not understand the overall value of the actuary. Not sure there is a real solution to this age-old issue except to continue to demonstrate the value of an actuarial background in whatever environment we're working in.
What do you like to do for fun?
Fly fishing has already come up in prior answers and since it's getting cold outside, it's time for a little telemark skiing.
What is something that most people don't know about you/might be surprised to learn about you?
I have a black belt in judo.
What would the title of your autobiography be?
Not sure about the title but the sub-title would be "Having fun in work and play."
If you could tell twenty-one-year-old you anything, what would it be?
You'll figure out life someday, maybe in 50 years!
Do you have anything that you consider your greatest achievement/your all-time claim to fame?
Writing my book, "Fundamentals of Retiree Group Benefits" during a sabbatical from Hewitt (where, by the way, most people taking their sabbatical come back talking about their round-the-world cruise or safari in Africa).
Is there a lesson you wish you had learned earlier?
Mistakes happen, and you need to own up to them sooner rather than later.