Dr. Rick Brinkman
Dealing with People You Can't Stand, How to Bring Out the Best in People at Their Worst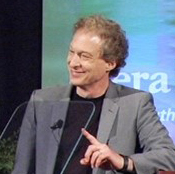 Dr. Rick Brinkman is a motivational speaker and trainer best known for his Conscious Communication® expertise conveyed to millions of people via keynotes and trainings, radio, television, print interviews, and numerous award-winning books, videos and audio programs. He is co-author of the international bestselling book, Dealing with People You Can't Stand: How to Bring Out the Best in People at Their Worst. He is also co-author of four others, Life by Design: Bringing Out the Best in Yourself, Dealing With Relatives, Love Thy Customer, and Dealing with Meetings You Can't Stand: How to Meet Less and Do More, available May 2017.
Dr. Rick's unique presentation style of Educating through Entertainment showcases his acerbic wit and lively storytelling, engaging seven parts of the brain instead of just two from boring facts and figures. This promotes information retention and helps listeners to quickly utilize the communication skills he teaches, leaving his dynamic seminars with immediate, memorable takeaways. Sharing human behavior insights and content-rich communication strategies, Dr. Rick helps organizations improve leadership performance, teamwork, soft skills, risk and meeting management, and teaches sales and service professionals how to apply his principles of Conscious Communication® to improve their bottom line results.
Dr. Rick imparts sophisticated knowledge with a light-hearted touch. Using everyday situations, and character sketches, he creates a larger-than-life presentation that fills your people with comic and cosmic "shocks of recognition" and insight. In short, his techniques produce results-oriented action for your organization because the substance of Dr. Rick's content is embedded by humor into memory.
Conflict Resolution: How to Bring Out the Best in People at Their Worst
Conscious Communication® is based on the belief that good communication skills are the foundation of relationships and the lifeblood of effective leadership, teamwork, and organizational performance. Successful leadership and organizational productivity are a direct result of the ability to communicate effectively whether in a supervisory, team member or service personnel role.
Just as some people bring out your best and other people bring out your worst, you can bring out the best in other people at their worst. It's simply a matter of understanding where they are coming from and what is likely to work best with them. In a dynamic and entertaining manner, Dr. Rick's message hits home with situations that people find themselves in every day, and empowers them with practical solutions.
What you say to people can produce defensiveness or trust, increase resistance or cooperation, promote conflict or understanding. Communication is like a phone number, we need all the digits to get through and we need them in the right order. When we don't pay attention to our communication and its effects on people, we often create difficult situations. By becoming a Conscious Communicator - having the skills and knowing the specific strategies to handle various problem behaviors - we empower ourselves to be successful in bringing out the best in people.